Brand documentary magazine
Magazine B No.83 YOUTUBE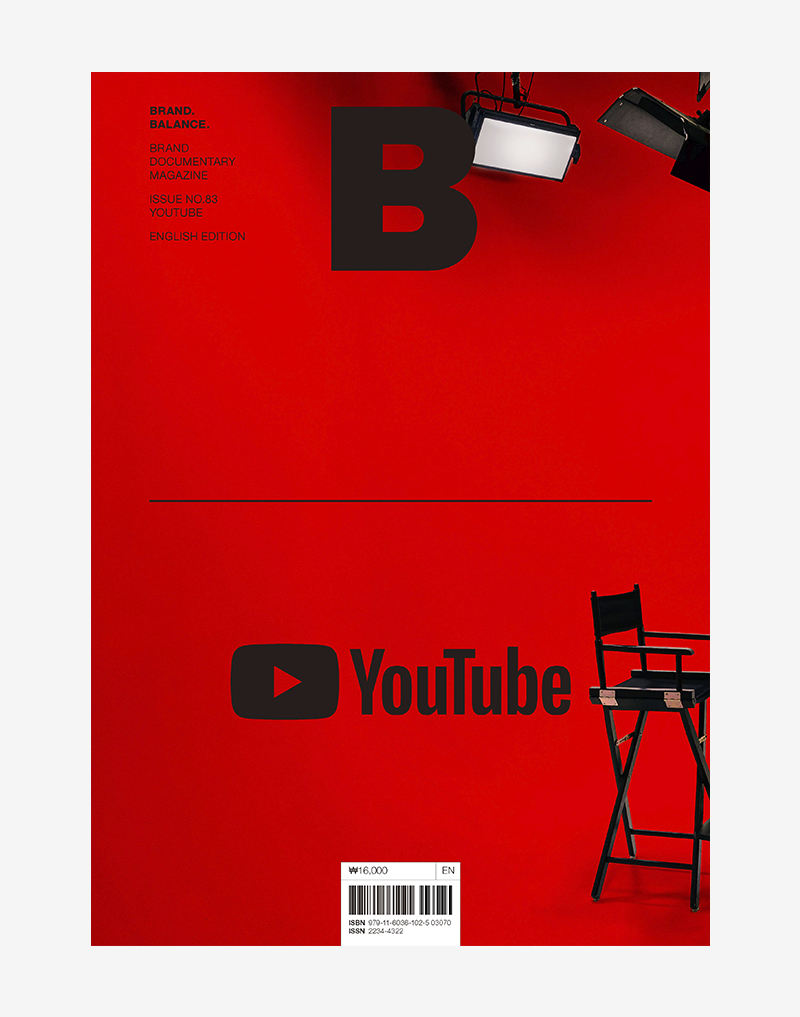 Category
Magazine > Economy/Business
Publisher JOH | 170 X 240mm, 160 pages
■ About the Publication
Magazine B is an ad-free monthly publication that dedicates each issue to one well-balanced brand unearthed from around the globe. The magazine introduces the brand's hidden stories, as well as its sensibility and culture, and is an easy but also serious read for anyone with an interest in brands.
■ About the Issue
Welcome to the 83rd issue of B.
A decade ago, when a friend told me that YouTube would someday dominate the world, I didn't fully agree with it and wrote off the idea altogether. I was sure that only well-trained experts could produce quality videos, and that it would be nearly impossible to share such large data files, as opposed to text or images. Of course, I was dead wrong, and today, I'm fascinated by YouTube and enjoy what it adds to my daily life. It's a company and brand that truly offers so much to talk about.
People, regardless of age or nationality, are watching more YouTube all around. In a sense, the growth of the platform bespeaks not only a change in the IT world, but also a complete paradigm shift in media. There are several elements that came together as a springboard for YouTube, including advances that put high-quality video creation tools into the hands of ordinary users. Add to that the YouTuber revenue model, which turned the simple act of creation into a job and became the overarching business model for the corporation.
From where I stand, the most important and notable feature that sets YouTube apart from traditional media is the main feed and the stream of recommended content. In contrast with legacy media, such as television networks that only offered users a choice between channels, YouTube has a unique layout that suggests algorithmically selected content below the video that's being played. This makes the video-sharing platform a completely different media experience because the power of programming and distribution that was once wielded by old media has been transferred to a user data-based recommendation algorithm. Content filters through several formulas before making it onto a given user's recommended content list, making watching a video to the very end quite significant.
But if that's the case, how have so many YouTube creators with high subscription rates become full-fledged, one-person media companies? Once, I would have guessed it was their flashy and provocative content, but I discovered that the common denominator was simpler: YouTubers are "real" people. Thinking about it, it's so natural and human to want to keep watching someone relatable over instant laughs or quick thrills. That's why I think YouTube has ironically brought about the most "human" form of media. And this new media experience that caters to the preferences of each subscriber is brought to us by artificial intelligence, so anyone out there who still irrationally detests AI ought to reconsider their position.
So now, to prospective YouTubers on the hunt for top-of-the-line cameras and editing tools in hopes of making big bucks: I implore you to take pause from all that and reflect for a moment. Instead, think about whether you're living a life that's uniquely and deeply "you," even if in the smallest of ways, and if that "you" is truly and genuinely "real."
Suyong Joh
Publisher
■ Table of contents
02 INTRO
08 PUBLISHER'S NOTE
12 TIMELINE
Viral YouTube videos that are still sensational ten years later
18 EXPERIMENT
Media consumption and YouTube search patterns of viewers by age group
26 OPINION: KEVIN ALLOCCA
Kevin Allocca, Head of Culture and Trends of YouTube
32 CREATIVITIES
New forms of content and rising genres of today
46 WORKSTATIONS
Equipment used by creators leading their genres
52 OPINION: NEAL MOHAN
Neal Mohan, Chief Product Officer of YouTube
56 ECOSYSTEM
How the video production hardware and software industries are ramping up their competitive edge and capitalizing on YouTube's growth
62 PRODUCT
YouTube as a product, continuously evolving in technology, design, and business
68 INDUSTRY
YouTube emerges as a comprehensive media brand with music and original content strategies
76 OPINION: CÉCILE FROT-COUTAZ
Cécile Frot-Coutaz, Head of EMEA of YouTube
82 YOUTUBERS
Top YouTubers take the world by storm with their one-of-a-kind personalities and charisma
96 GAME CHANGERS
Legacy media entities and entertainment companies cross over into the world of viewer preferences and convenience
104 OUT OF THE BLACK BOXES
YouTube Space, supporting creators in production and encouraging ultimate creativity
110 BRAND STORY
The story of how YouTube opened a new horizon in the media ecosystem
120 PLATFORMS
Fierce competition among social media platforms for the upper hand
124 INTERVIEW: STEVE CHEN
Steve Chen, Cofounder of YouTube
130 INTERVIEW: ROBERT KYNCL, GAUTAM ANAND
Robert Kyncl, Chief Business Officer of YouTube
Gautam Anand, Managing Director of YouTube APAC
134 TRANSMISSION
Cases when YouTube takes over and expands the role of conventional media
138 BRANDS ON YOUTUBE
YouTube sparks changes in company and brand strategies for external communication
142 DIGEST
Information and figures about scale, growth, and trends in the YouTube ecosystem
148 REFERENCES
Publications and online resources that speak to YouTube's cultural influence
151 OUTRO
■ Content Images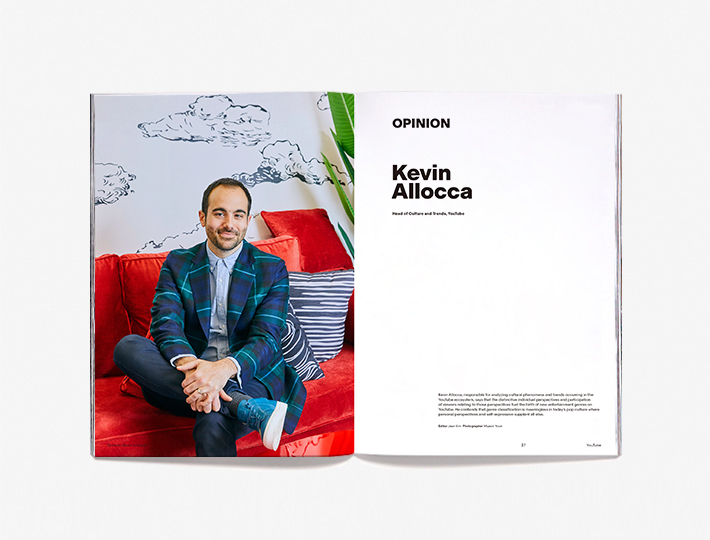 P 26 – Opinion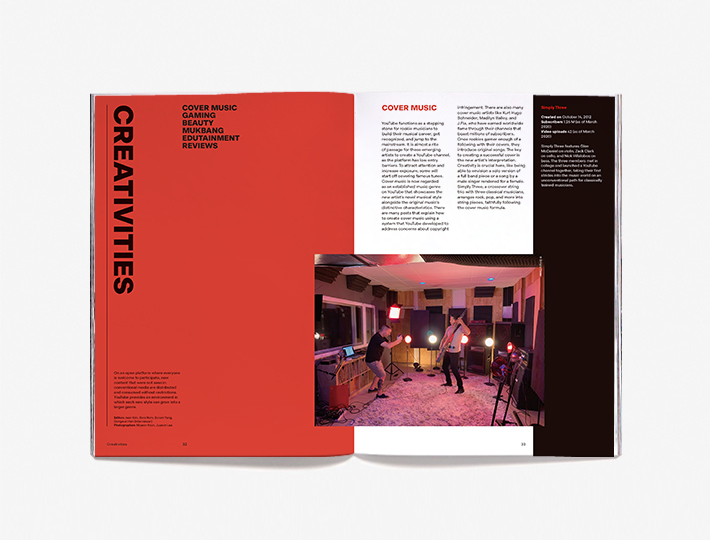 P 32 – Creativities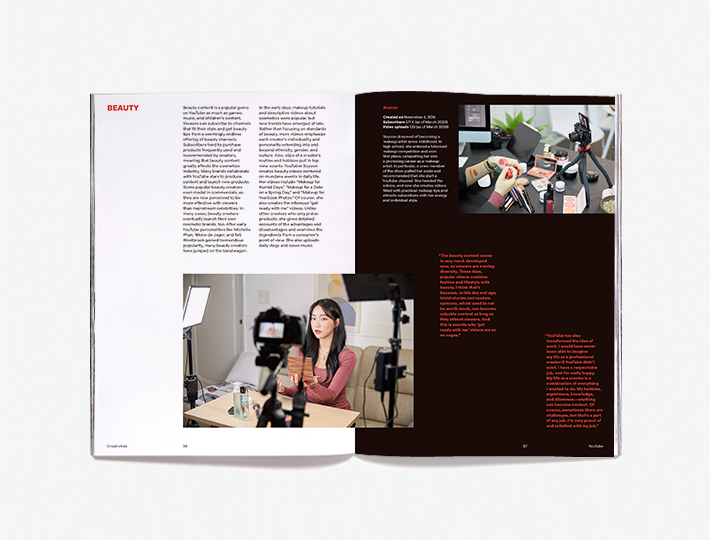 P 36 – Creativities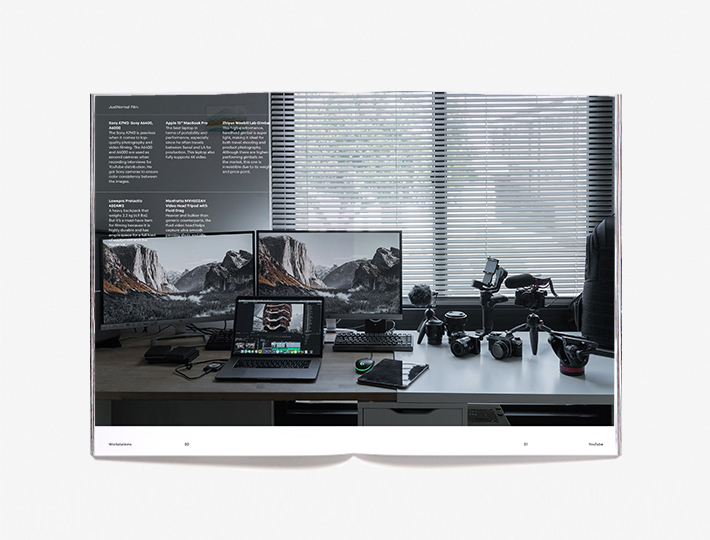 P 50 - Workstations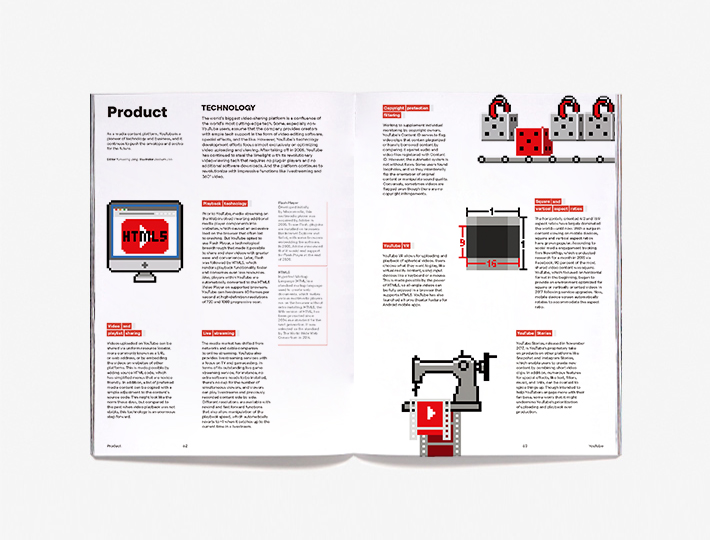 P 62 - Product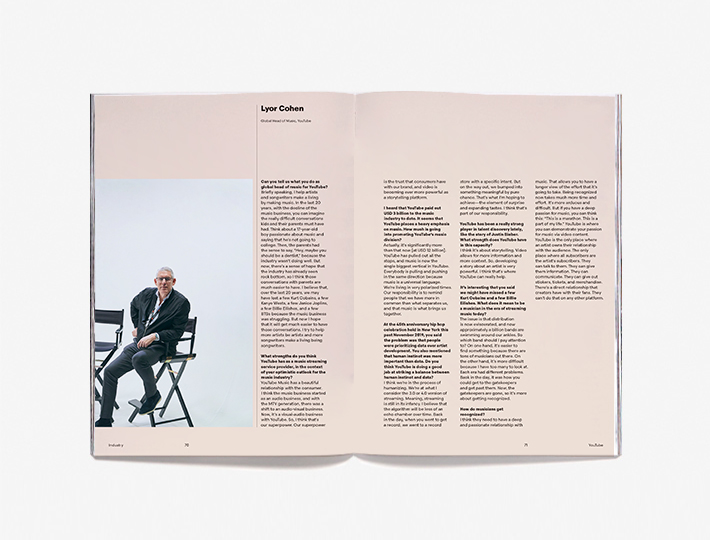 P 70 - Industry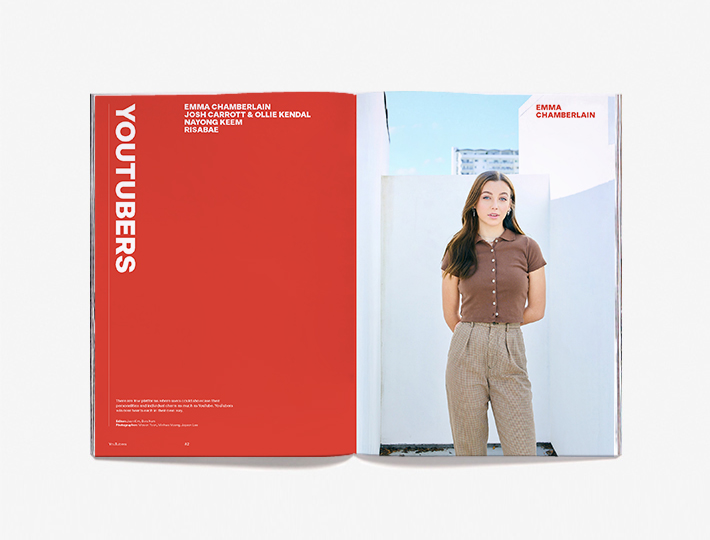 P 82 - YouTubers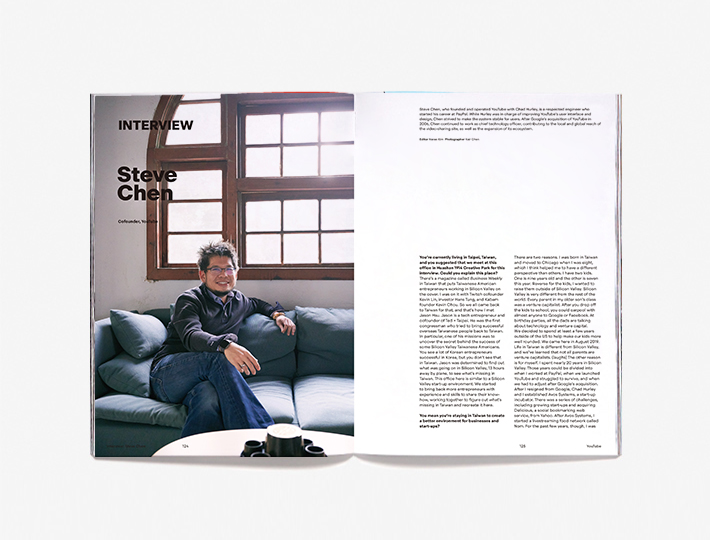 P 124 - Interview: Steve Chen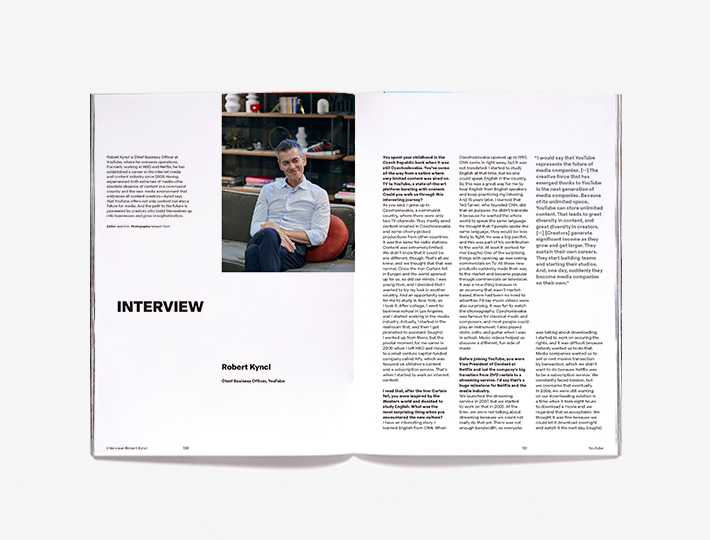 P 130 – Interview : Robert Kyncl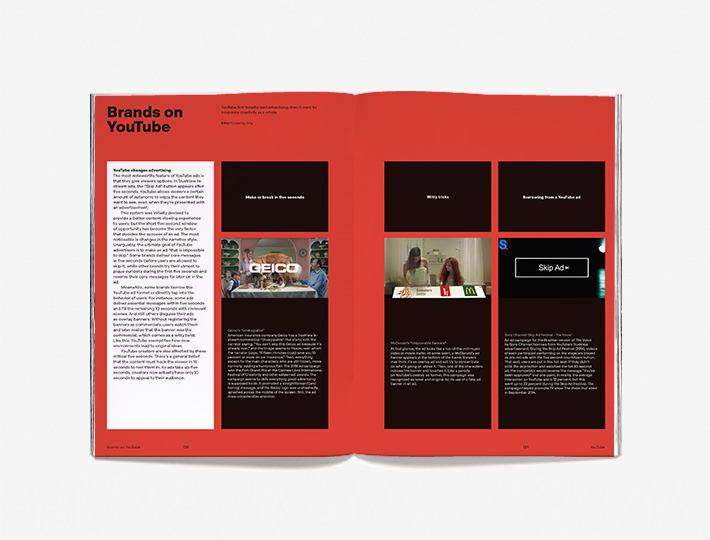 P 138 - Brands on YouTube