Food Documentary Magazine
Magazine F No.12 KIMCHI (EN)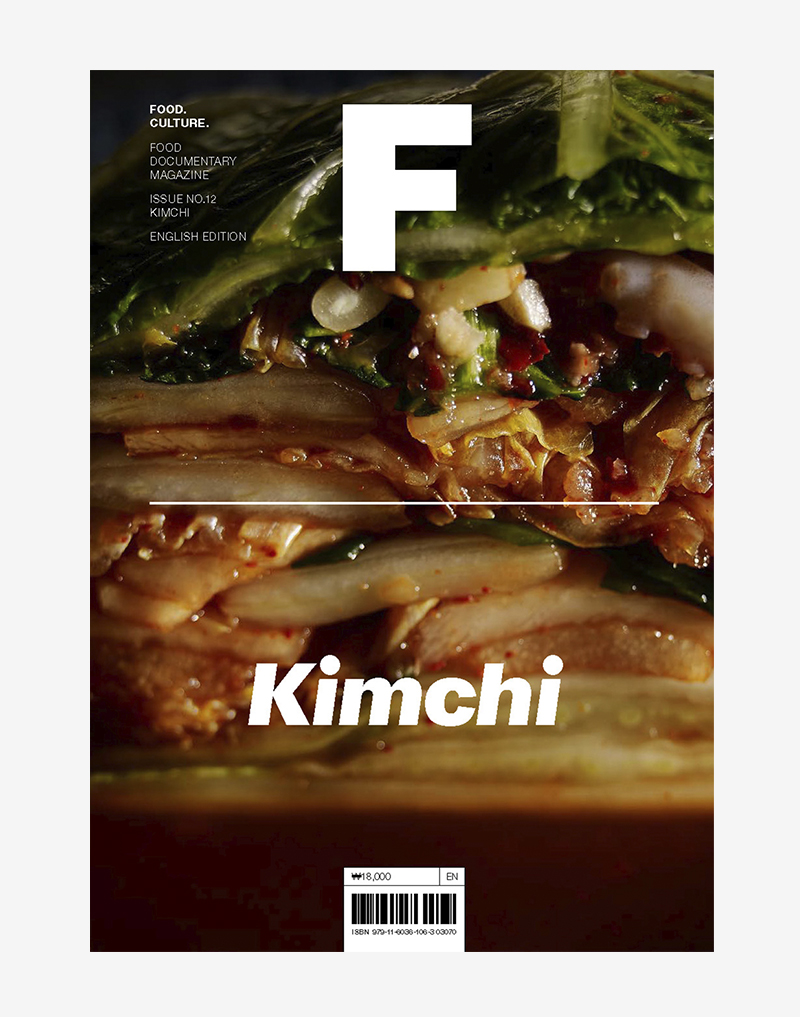 Category
Magazine > Culture / Lifestyle
Publisher Baemin, Magazine B | 170 X 240mm, 152 pages
■ About the Publication
Magazine F is a food documentary magazine co-created by Magazine B and Baemin, which introduces one particular ingredient that has had a significant impact on people's table. Baemin has become a critical mover and shaker in South Korean contemporary food culture, and B provides a balanced view on brands through multi-layered stories. This collaboration brings together these two areas of expertise in F, which is hoped to become a record of essential ingredients and food culture of our time.
■ About the Publishers
Baemin
Baemin is a food-tech company, founded in June 2010, by owner Bongjin Kim. With over 3 billion downloads, it is considered Korea's number one delivery app that leads the food delivery industry under the mission of "Good Food Wherever You Want". It now plans to expand its multi food-tech company in creating unique businesses like Baemin Riders, Baemin-Chan, and Baemin-Sanghwe.
Magazine B
Magazine B is an ad-free monthly publication that dedicates each issue to one well-balanced brand unearthed from around the globe. The magazine introduces the brand's hidden stories, as well as its sensibility and culture, and is an easy but also serious read for anyone with an interest in brands.
■ About the Issue
Kimchi is a millennia-old, preserved food of Korea, and kimjang, the making and sharing of kimchi to be eaten over winter months, was designated as a UNESCO Intangible Cultural Heritage of Humanity in 2013. Napa cabbages and Korean radishes are salted, coated in red pepper powder, garlic, and other savory ingredients, and then left to ferment. As each family developed their own recipe, kimchi became more diverse with each passing generation. Kimchidok crocks kept in the ground have been replaced by refrigerators in the home specifically for kimchi storage—evincing the everlasting symbolism of kimchi on the Korean table. Today, fermentation is a major trend in gastronomy culture, and this naturally fermented, probiotic-rich food is revered worldwide.
■ Contents
2 Intro
8 Letter from F
12 Exploring
Thoughts on kimchi from global chefs and kimchi experts
16 Overview
Kimchi's meaning and role in Korean culture
20 Kimchi Chronicles
Symbolism of kimchi across history as told by six Korean food researchers
48 Extension
Kimchi-storing containers and techniques show the advancement of the kimchi industry
54 Academic Manual
Tidbits and trivia about kimchi, including historical facts, traditional dishes, and trends
72 Four Seasons
A list of kimchi for four seasons
74 Component Table
Diversity of kimchi through regional comparisons
76 F Lab
Delicious kimchi
78 F Cut
Infinite variations of kimchi with different ingredients and forms
88 Interview
88 Jeong Kwan
The venerable Jeong Kwan's food contains the essence of nature and value of life
96 Jonguk Lee
Korean chef Jongguk Lee focuses on taste rather than shape or form
102 On the Table
Old Korean restaurants famous for scrumptious kimchi
118 Independent Brands
Global independent kimchi brands make creative kimchi varieties by combining local ingredients and Korean condiments
128 Interview
128 Matthew Calderisi
Founder of fermented food brand Ferment 9, Matthew Calderisi, talks about kimchi's potential
132 Daily Menu
Everyday dishes prepared by people from diverse cultures
138 Into the Market
Novel kimchi products with great branding
142 References
Books and YouTube channels recommended by kimchi experts, chefs, and cooking enthusiasts
150 Dictionary
151 Index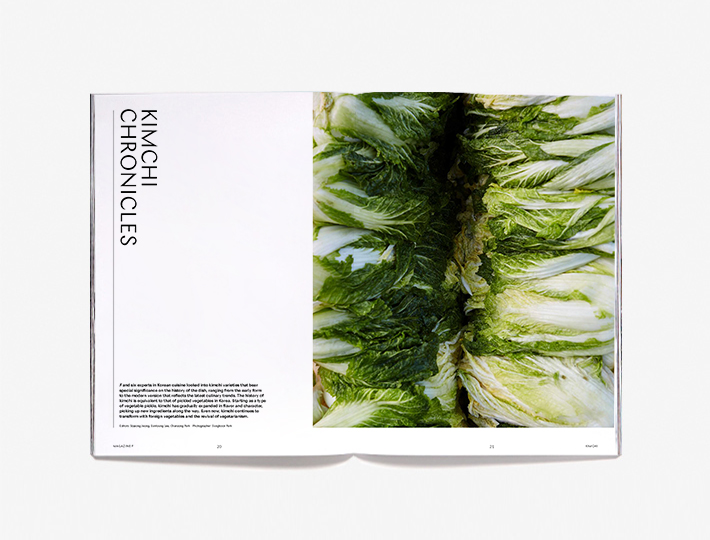 20 – Kimchi Chronicles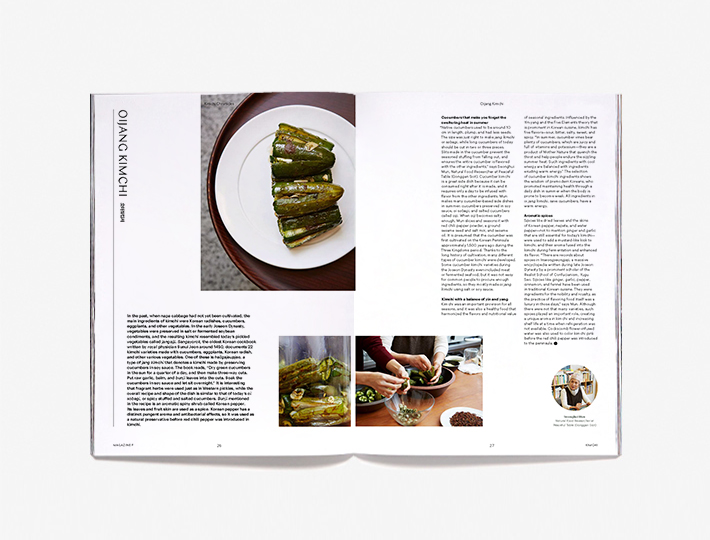 28 - Oijang Kimchi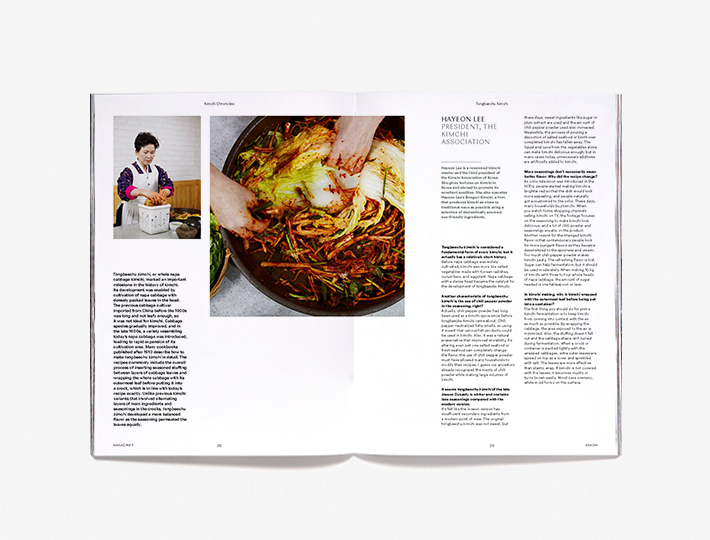 38 - Tongbaechu Kimchi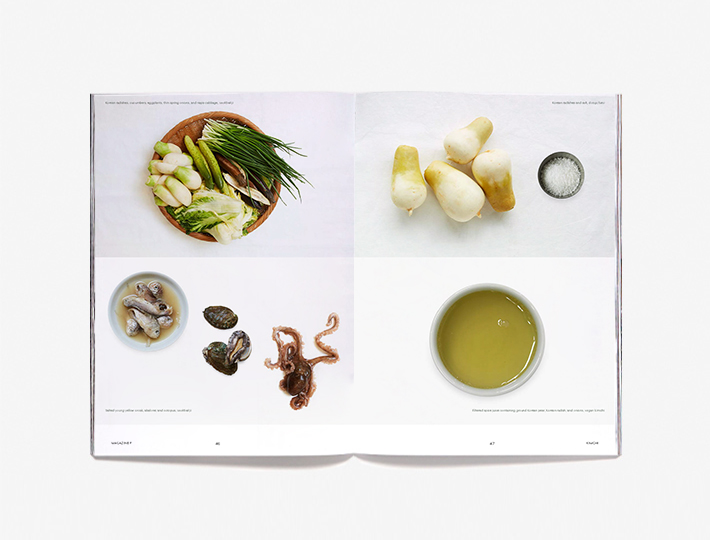 46 - Seokbakji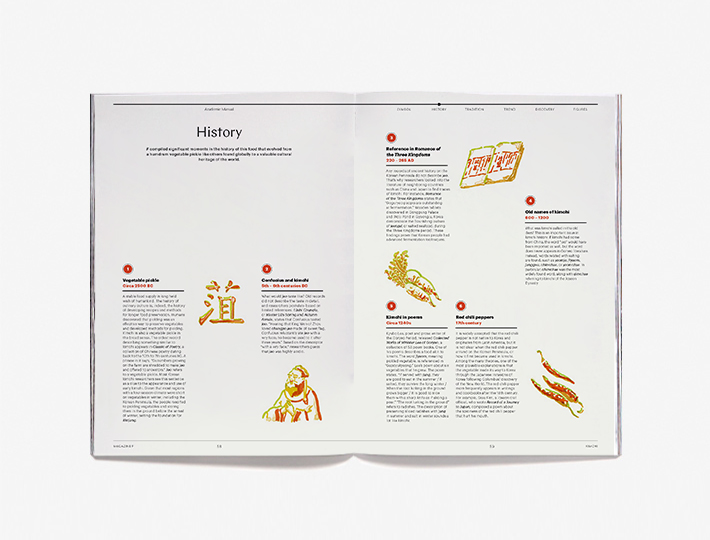 58 - History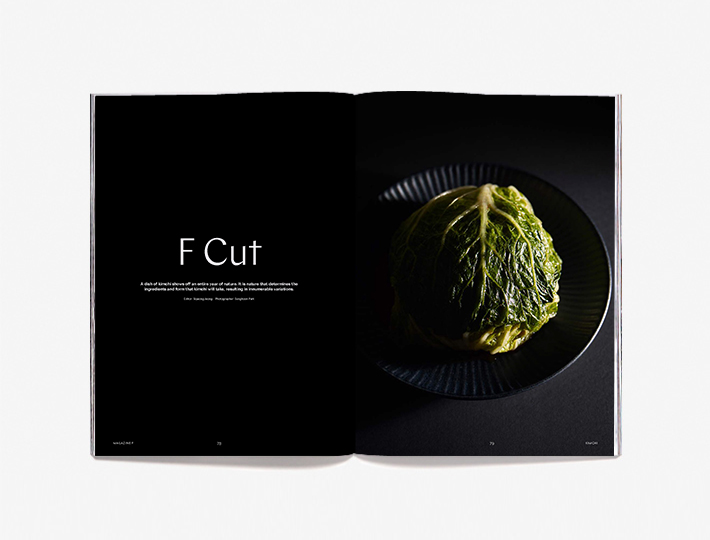 78 – F Cut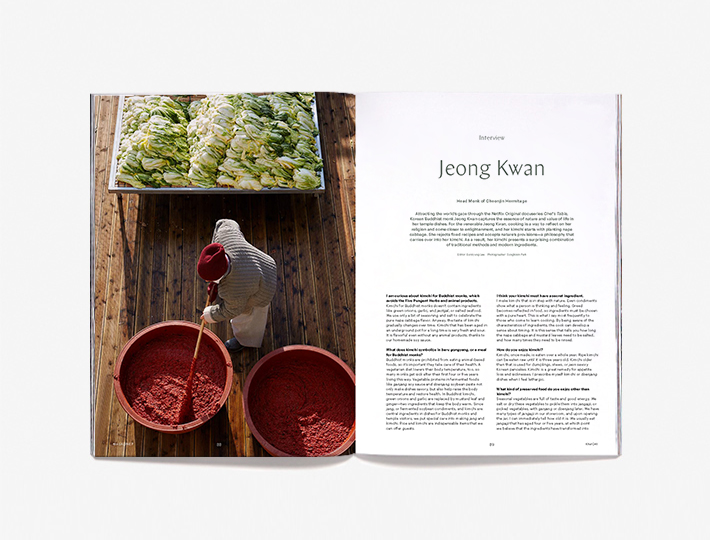 88 – Interview / Jeong Kwan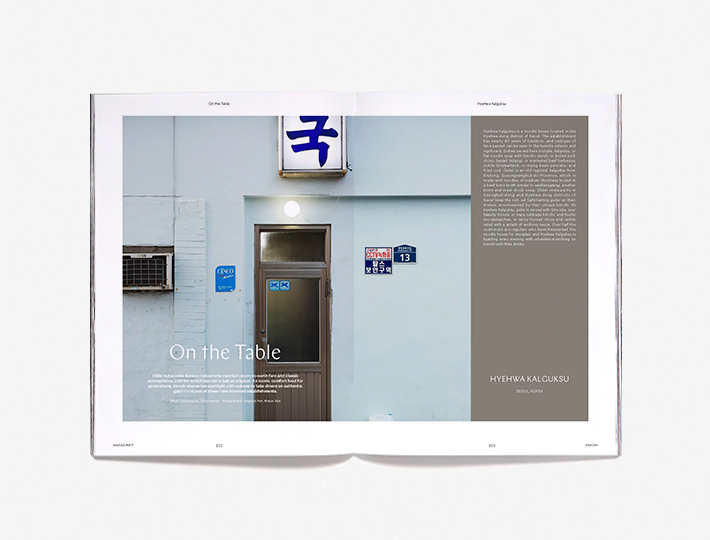 102 - On the Table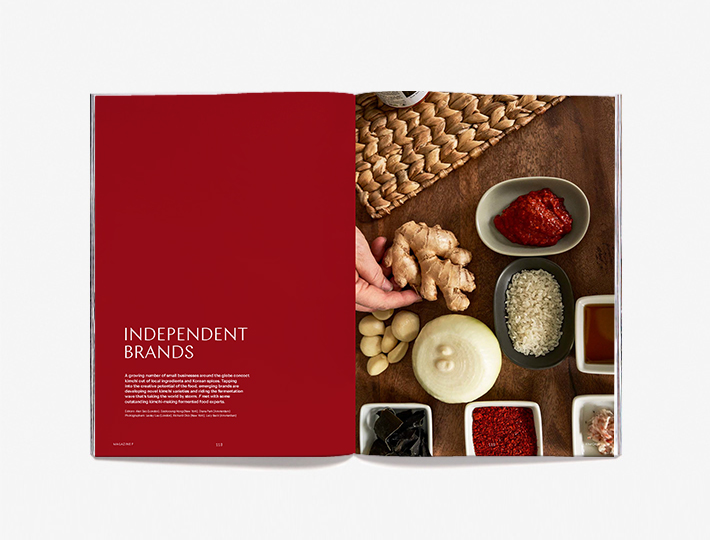 118 - Independent Brands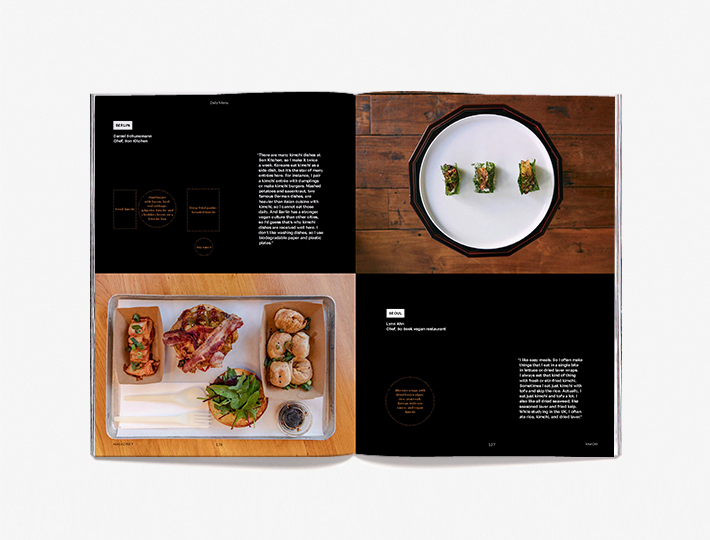 126 - Daily Menu