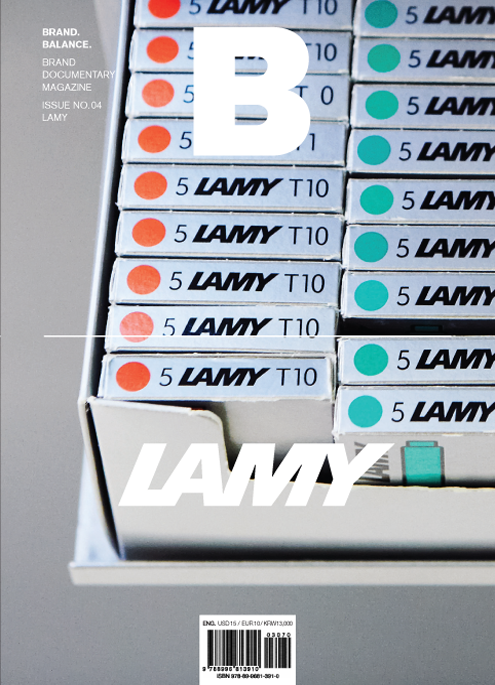 ■ About the Publication
Magazine B is an ad-free monthly publication that dedicates each issue to one well-balanced brand unearthed from around the globe. The magazine introduces the brand's hidden stories, as well as its sensibility and culture, and is an easy but also serious read for anyone with an interest in brands.
■ About the Issue
It seems B has taken another step forward since its third issue. Its English edition has made a head start in overseas sales. It is overwhelming to take another step forward to inch toward the magazine's goal to offer contents targeting the global market.
The brand that B has selected for its fourth issue is the German pen maker "Lamy." My first discovery of Lamy still remains vivid in my mind even to this day. I looked around numerous stationary stores, in a search of the perfect fountain pen for myself. I had previously received fountain pens as gifts on numerous occasions, but I must confess, the fountain pen brands I had known were mostly established pen makers such as Montblanc and Waterman. LAMY, on the other hand, came as a shock to me – its modern design paired with variety of colors opened my eyes to a whole new realm of fountain pens. It has been more than a decade since then, and I have held countless number of pens in my hand. I have also been personally interested in writing instruments, but my first impression of LAMY remains unchanged. Mr. Min Kwon, the editor-in-chief of UNITAS BRAND once commented that while a Mont Blanc fountain pen "gently glides" on paper, LAMY pen "softly scratches" the paper. It was indeed adequate to describe the brand image of LAMY which offered its product line of everyday writers.
Although prestigious brands with long history may take up the majority in writing instrument industry, LAMY has consistency and sincerity in its approach toward what is usually perceived as an "old and conservative" image of fountain pens and successfully brought forth writing instruments with a young and sensuous image. I suppose Mont Blanc fountain pen users, users of colorful LAMY Safari pen, and those who grab any pen and end up losing it afterwards have very little in common. One's choice of writing instruments can give "clues" about his or her taste. Similar to what a desk can tell about a person, a writing instrument can hint at so many things.
To such extent, B is going to take a closer look at the creativity and consistency that LAMY has unleashed with its devotion to making high quality writing instruments paired with unique designs and acceptable price range.
In fact, fountain pens are primary writing instruments that let water soluble ink flow to leave its traces on papers. Fountain pens demand users to take a quick look at the angles of nibs during use. In fact, they are quite difficult and somewhat inconvenient to use because users are constantly need to maintain a subtle balance when putting their pens on paper. In spite of all this, fountain pens are and will always be appealing to and be cherished by many as sophisticated writing instruments. With technology evolving, new writing instruments are being developed for use - even in spacecrafts - and digital gadgets are rapidly replacing handwriting instruments. Nevertheless, fountain pens will continue to be cherished deep inside people's hearts for many years to come.
Keyboards and touch panels are increasingly used in place of pens these days. I sincerely hope that this issue will motivate readers to pick up their fountain pens, though not necessarily LAMY pens, to retrieve the long forgotten joy of writing.
Publisher Suyong Joh
■ Content Images